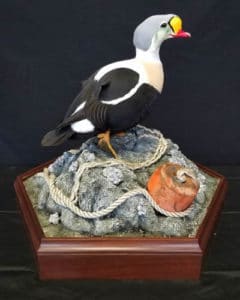 Capt. Dave Houser has been waterfowl hunting up and down the entire east coast for the last 20 years. From Maine to Arkansas, He is also Licensed U.S.C.G Licensed Captain and runs guided sea duck hunts out of Delaware. Dave runs a very successful taxidermy studio out of Marysville, Pa. He is a 2 time Pa. State Taxidermist Champion with over 20 years of experience in taxidermy. Also he is a finished Dealer for Homer Decoys. From Decoys to guided hunts and taxidermy services his business Truetolife Taxidermy Was established in 1996 with all the recent additions to the business  name was changed  Truetolife Outdoors LLC.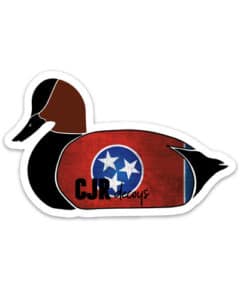 CJR DECOYS
CJR Decoys produce a tough, dependable, and guaranteed decoy in an everyday changing waterfowl world. We construct a 100% foam block body that is backed by a 100% warranty. We guarantee that these decoys will stand up to rough boat rides, 3.5 magnums, and your buddy who breaks whatever he touches. Our decoys are Homer coated, primed, detailed, and sealed. This assures that the decoy retains its details and will last for multiple years. They are self righting, heavy blocks that will sit high in the water no matter the condition.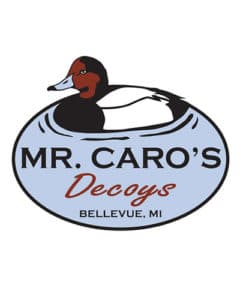 Mr. Kevin Caro is a middle school English teacher from Bellevue, MI.  He gives back to our youth and promotes their involvement in the outdoors by coaching the High School Trap Shooting team in Bellevue.  He loves introducing the youth to waterfowl hunting, including his own two children, Addelyn and Kolton. In addition to being a dealer for Homer Decoys, Mr. Caro is a small business owner who is a dealer for the following companies: Beavertail, Tactacam, Duk Nutz, as well as a few others. He was the first Homer Decoys dealer in Michigan and remains the only dealer in The Great Lakes State.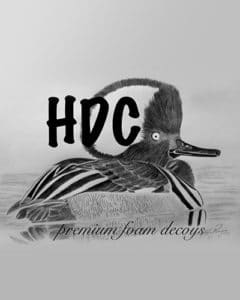 HODUCK DECOY COMPANY
Hoduck decoys are made in Northern Wisconsin by avid hunter and sportsman Jeff Taege. Jeff was tired of plastic decoys with paint jobs that barely would last a season, rode waves unnaturally and slapped the water, or would sink if unintentionally shot. He found a way to remedy these issues, and that was to find, himself, a decoy that swims naturally in the water, has realistic and long lasting paint jobs, and is as tough as nails. Jeff is an artist with an eye for detail and as a hardcore waterfowler, he understands the need for a decoy that can withstand the rigors that come with the sport. From this, Hoduck decoys were born. A Homer foam decoy with a 3 lb. density (more than Herters) that weighs just more than a pound before finishing. After our coating (restle or burlap) is applied Hoduck decoys are extremely durable and will last generations rather than seasons when taken care of. All of our decoys are made exclusively in the United States and come with a lifetime warranty on both bodies and heads.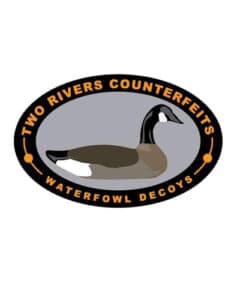 TWO RIVERS COUNTERFEITS
Two Rivers Counterfeits, in Aylett, VA specializes in high quality hunting decoy refinishing. Flocking, airbrushing, burlapping, or Homer/restle/trestle coating, Two Rivers can do it all. New decoys being finished, your commercial gunners being upgraded and repaired, or three generations old blocks; plastic, rubber, foam, cork, or wood… they can do it all to make your spread stand out above the rest.
Owner/operator Andy Martel works as a Medic/Fire fighter full time and spends much of his free time hunting all over North America for waterfowl with his family. His wife, Kristi, and his sons Jesse and William are all avid hunters and anglers and the Martel's love sharing fellowship with other hunters. Kristi, a registered nurse, also helps in the decoy shop with flocking and repairs. Their youngest son William has made some award winning buoy decoys, including taking Second-in-Show in youth buoy at the 2019 Whitestone Waterfowl Festival at just 6 years old.
You can reach Andy directly at (804) 687-9093, and you can view his work on Facebook at Two Rivers Counterfeits – Waterfowl Decoys or on Instagram @tworiverscounterfeits.
INTERESTED IN BECOMING A HOMER DECOYS DEALER?